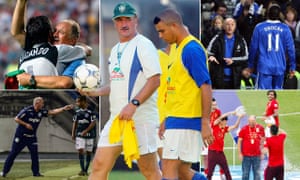 Big Phil chats about his tussles with England, winning the World Cup with Brazil, Ronaldinho's cross, the 7-1, why it did not work for him at Chelsea and why he loves English fans
Ask any of the footballers who have ever been managed by Luiz Felipe Scolari and they will all say the same thing: Felipão is not to be messed with. But, on a sunny morning in São Paulo, behind his aviator sunglasses and neatly trimmed moustache, he looks relaxed and content. Well he might. We are talking before the coronavirus pandemic shook the world and Scolari has been kicking back at home. "I've been on the beach for two months, every day," he says. "It's the first time I've been able to do that in 50 years."
Scolari has been out of work since being sacked by Palmeiras in September and has been spending time in his native Rio Grande do Sul, Brazil's southernmost state, to plan his next steps and mull over the last half century. There is rather a lot to reflect on. As a manager he has worked in eight countries and been to three World Cups. There was a winner's medal in 2002 and two more semi-final appearances, the second of which we will come to later.
Before that, there was a decade as a professional centre-back for a few middling Brazilian clubs. He describes himself, in his matter of fact, bullet-point style, as a "useful and effective" player. "It was rare that I lost a 50-50," he says. "I had a lot of physical strength. I commanded my colleagues on the pitch. At 20, I was already captain. If there was a problem, I sorted it. If there were 40 games in the year, I played 39. I was a good player doing what I did for that team. I wasn't flashy. I wasn't technical."
When he started out, he combined playing for Caxias, where he spent most of his career, with a degree and a job as a PE teacher. His father did not want him to follow a career in football. "He wanted me to study, to go into another profession", says Scolari. The compromise was that he would do both.
At the time, Caxias played in the top flight of the Rio Grande do Sul state championship and Série A of the Brazilian national league. "These days, that's unthinkable. I worked for seven or eight years as a teacher. I worked Monday morning, and on the mornings and evenings on Thursdays and Fridays. The rest of the time I trained and played." The first trophy he ever lifted as coach was the state schools' cup with a side that included current Brazil manager Tite. "It was hard, but it was a great time in my life. I learned a lot. I lived with different kinds of people, with kids, with my club colleagues, with my school colleagues. It was good for the formation of my character."
That teacherly demeanour, with stern brow and exacting glare, has not faded. In Brazil he is renowned as a safety-first tactician, knockout tournament specialist and a master of man management. "I knew to which point I could influence people to grow, to play better, to be better people in their lives," he says, "All of these things that I saw as a manager, I learned in school as a teacher."
Looking back, particularly from a European perspective, there is a temptation to see Scolari's triumph at the World Cup in 2002 as an inevitable consequence of the bountiful attacking talent at his disposal. But when he took over the Seleção in July 2001, Brazil were on to their fourth manager in three years and looked like they might not qualify. "At that time the Seleção didn't have a great relationship with the people," he recalls. "The fans didn't believe. The mistrust continued; we'd win a game, then lose another." It went down to the last round of qualifying games, with Brazil finally securing a place in Japan and South Korea thanks to a 3-0 win over Venezuela.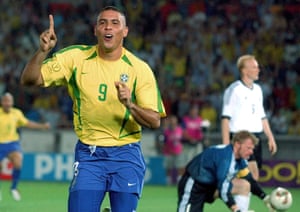 Ronaldo celebrates after one of his goals in the World Cup final in 2002. Photograph: Dusan Vranic/AP